When people ask me where I get my inspirations for design, it makes me smile. I've said before that I find inspiration almost anywhere, but honestly growing up in the South provided me with an enormous array of ideas and inspirations to draw from.
The historical architecture in the South is a mixture of French, Southern Gothic, farmhouse traditional, and even Spanish colonial. We're lucky to have stunning wrought iron patterns, soaring Corinthian columns, hand-painted walls, and amazing craftsmanship around us every day.
In my home state of South Carolina, I grew up surrounded by flowers, silver service, fresh peaches, cypress gardens and soaring palms, and a spectrum of colors on Rainbow Row.
The sights, sounds, and smells of my childhood and my life here in the South is an endless source or inspiration for color, for design, and for my own unique viewpoint.
Who wouldn't be inspired by a state as gorgeous as the one I grew up in? For more inspiring scenes from South Carolina, see my pinboard here.
Let your own life, and the experiences that make you who you are, provide you with endless inspiration.
Mixing you,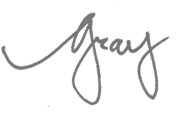 Posted in: Uncategorized