If you've been reading my blog any length of time, you know how passionate I am about gardening. I love to tour gardens throughout the South, particularly in cities that are renowned for them, like Savannah and Charleston.
Even on a simple walk past private gardens, I always want to peek over the wall or gate to appreciate the beautiful flowers and plants, but often I can't help getting distracted by the gorgeous designs on the gates themselves.
Garden gates build up the anticipation of the beauty that lies beyond them. They're just a glimpse of the care that goes into tending to a garden.
Whether made of wrought iron or wood, the most gorgeous of gates welcome you into the loveliest of gardens to admire nature's pure beauty.
Check out some more of my favorite garden gates on my Gate Crashers pinboard.
Mixing you,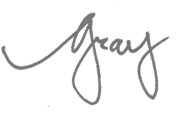 Posted in: Uncategorized