As an interior designer, I seek inspiration from nature. In turn I learn how much we as humans have in common with it. One of my favorite natural curiosities is the butterfly. Butterflies spiritually symbolize powerful transformations of the soul. The detail and color of these gifts of nature have always mesmerized me. Their wings are fluttering magic of kaleidoscopic color.
My entry is a classic Georgian two-story with a curved staircase. I wanted a wow factor on the walls, so I called my friend and artist, Robin Wellner. I envisioned enormous butterflies drawn all over; some are five feet high. She drew with conte crayon to give a soft subtle warmth that invites you in and unknowingly embraces you. Their dreamy wings lift my spirits every time I walk down my staircase. We all love beautiful things because visual splendor is intoxicating.
I didn't realize I was on trend a year in advance, though I believe the butterfly is a classic motif. I saw lots of butterflies at this past furniture market, I guess they are making a comeback. Well, isn't that what they represent?  Powerful transformation and profound changes of the soul, that never goes out of style.
Mixing you,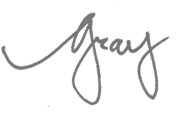 Posted in: Interior Design